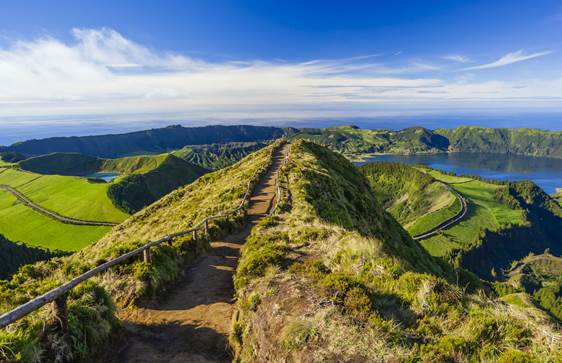 Azores
Discover the charm of nature in the Azores with the Pestana Group! Enjoy your holidays in some of the best hotels in the Azores. Enjoy your stay in a 4-star hotel in São Miguel or in historic hotels in Faial or Terceira.
"We sought sea and wonders around the world and nine dazzling islands emerged" Sophia de M. Breyner
The Azores is a small tropical paradise in the middle of the Atlantic. Melancholic beaches of dark sand and warm waters, thermal pools amid lush forests, cuisine that tastes of the sea, traces of volcanic activity hidden in villages, unforgettable lagoons and waterfalls peeking through the mountain valleys... And if time is unpredictable, so is the Azores landscape. Be dazzled by the Lagoa das Sete Cidades, Fogo and the Vila Franca Islet in São Miguel, the historic centre of Angra do Heroísmo on Terceira Island, and the bay of Horta, on Faial Island. Any of these islands is a must and equally as breathtaking. And if you're an adventurer, take a boat trip and watch the whales and dolphins at sea, dive, hike, canoe and even go paragliding. The Azores are a destination filled with excitement!
Read more
Read less